Our innovations
The emergence of stronger and bigger equipment means that demolition methods have changed over the years. But the principle is still the same.
Innovative solutions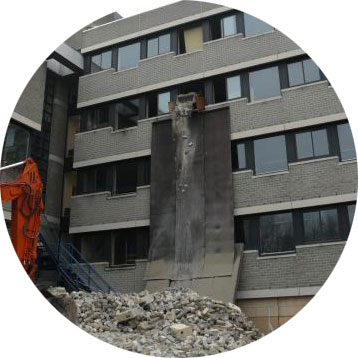 Demolition and remediation require structured work by expert personnel. Innovation is an integral part of VLZS. We innovate whenever we can and whenever we need to. So that our work processes become even more efficient. Our innovations focus on reducing nuisance, downscaling noise with new technologies and improving our processes. VLZS is a learning organisation that always thinks and works with progress in mind.


Fully equipped demolition trailer
VLZS is the only contractor with a special demolition trailer. This trailer, which we developed ourselves, has everything you need to completely demolish a retail or commercial space in a short time. It contains all the machines and tools required to perform this task quickly and professionally without impeding third parties. We use the trailer, for example, to empty retail premises. VLZS can demolish a complete supermarket shell in 16 hours. The store is emptied of goods, the utilities are cut off and the construction power supply is switched on. It couldn't be easier.